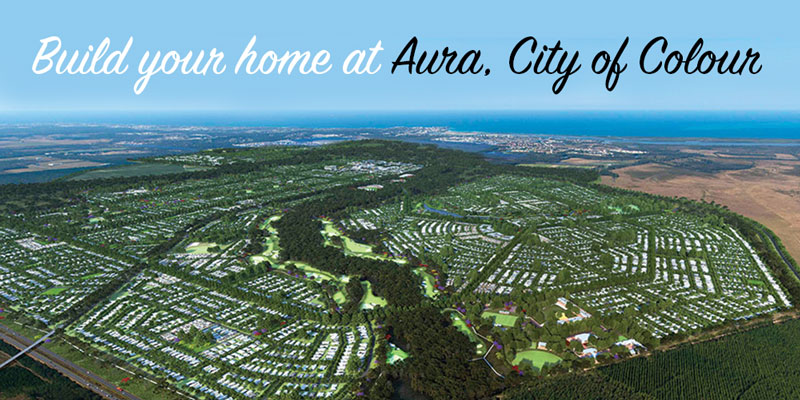 Our Aura Display Homes Are Open – Come Visit Us!
If you're not already aware of it, the Sunshine Coast fastest growing suburb is underway and Aura is coming together fast!
Dwyer Quality Homes are one of the Queensland Master Builders chosen to construct homes Aura City of Colour, which is set to take shape over the next three decades. The exciting new residential suburb is expected to become home 50,000 people upon completion – and with a land mass the size of Gladstone, it's easy to see why so many people are eager to be a part of this community.
Aura will deliver massive parks, public space, cycle ways and an environmental conservation network to the new suburb. With 700ha of rehabilitation and conservation designated, as well as innovation hubs, a public Southbank-style beach and sport and recreational facilities, the project is set to change the face of the Coast.
Talk to us today about building your dream home at Aura, City of Colour.

We have more than 140 designs to choose from…
Baringa is the first suburb to be released at Aura and offers a range of home site sizes.  Dwyer Quality Homes has more than 140 architecturally design homes to choose from, all of which would suit this new Aura suburb perfectly.
These designs are ready to build, and if you choose a standard plan, your home can be built within a specific building time. From small low maintenance homes, to open plan designs, family designs and homes with parent's retreats and media rooms. All our plans are unique and have been thoughtfully designed for the Sunshine Coast lifestyle.
Aura, City of Colour will amaze all:
More than 2 million trees will be planted across the 24sq km site
City Square plaza space of more than 4000sq m
Central Park to be more than 120ha in size
More than 200km of cycle ways
Visit our display home Bells Beach, Caloundra today.
Open 7 Days, 10am – 4pm
Address 20 Aqua Circuit, Bells Reach
Sales representative Brian Fincham
Phone (07) 5390 8059
Mobile 0400 303 572
Email brian@dqh.com.au