DWYER QUALITY HOMES
Behind the Success Story
Dwyer Quality Homes Founder, Wayne Dwyer began his career as a carpenter contractor on the Sunshine Coast. Today, his business is one of Queensland's leading and longest serving home builders, with a reputation built on 30-years industry experience.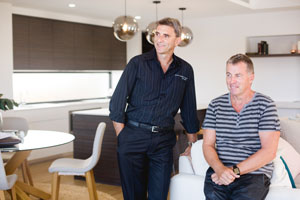 Along with the relentless passion of the Dwyer Quality Homes General Manager, Pat Assaillit, who has been with the Sunshine Coast-based business since its inception, they now boast in excess of 140 architectural designed floor plans and are part of a unique network of building projects across the State.
"We lead the market in every segment from first homes to luxury residences, priding ourselves on creating cutting edge designs and building quality homes for all types of families," Pat Assaillit says.
We even offer a unique opportunity to create your dream home from the design stage, with affordability, flexibility and reliability always in the forefront of our minds.
What our Customers say...
Maurice & Lilian Mills express our gratitude to Scott Humphreys from DQH, for his help and understanding in guiding us through the process and planning stages of selecting our new home. We found him to be honest, caring and with a great deal of integrity, and would not hesitate to recommend him and the company he represents.
I have had a great experience with Dwyer Quality Homes and it's been an exciting time watching our dream home come out of the ground and become a reality.
Thank you for all your help with our house build, it has meant a lot to us. We are really happy with how it has turned out.
In three decades, the Dwyer Quality Homes team has won more than 70 industry awards, ranging from 'House of the Year', 'Best Kitchen' and 'Most innovative Use of Technology'.
These achievements are founded on employing the industry's best people, creating cutting edge designs and building quality homes for Queensland families.